Roto-Molded Trade Show Shipping Cases
Trade show shipping cases play a crucial role in securely storing and transporting your tradeshow exhibit and equipment to the designated trade show venue. At Philly Case, we excel in constructing durable and dependable trade show shipping cases. Regardless of your specific shipping requirements, our custom trade showcases are designed to safely transport all your exhibits and exhibition materials, regardless of the frequency of your trade show attendance. Whether you prefer a custom-built tradeshow case tailored to your specifications or find a suitable match among our standard or stock cases, we have the solution for you.
Safeguard your trade show panel system, accessories, graphics, or booth components.
Our Roto-Molded tradeshow cases provide unrivaled protection during transportation. These custom trade show cases are meticulously crafted using:
High Density Polyethylene for enhanced durability.
Heavy Duty Straps and Buckles to secure your items effectively.
Caster Wheels for effortless movement and maneuverability.
Our readily available stock of Roto-molded trade show shipping cases ensures prompt shipment upon your order placement.
When it comes to shipping graphics, such as banners, signs, displays, and posters for your tradeshows, a specialized type of roto-molded custom tradeshow case is essential. Graphics play a crucial role in the overall appearance of your tradeshow booth, and they are both costly to produce and vulnerable to damage while in transit. Our roto-molded graphics case offers comprehensive protection for your invaluable graphics, ensuring their pristine condition throughout the shipping process.
Custom ATA Tradeshow Case
Discover the ultimate solution for your transit shipping needs with our Custom ATA Trade Show Case. Philly Case proudly presents an extensive range of premium materials and customizable options to tailor your shipping case to perfection.
Our ATA transit shipping cases are constructed using the finest materials, including:
¼" To ½" furniture-grade plywood
ABS laminated to plywood
Recessed steel hardware
Aluminum tongue-in-groove
Heavy-duty steel ball corners
With our Custom ATA Trade Show Case, you can rest assured that your valuable trade show exhibits and equipment will be safeguarded during transit with utmost precision and reliability. Experience the peace of mind that comes from choosing Philly Case for your transit shipping case requirements.
Options for an ATA trade show shipping case:
Philly Case offers a range of options for your Custom ATA Trade Show Case, including:
Custom Colors
Edge Casters
Security and Safety Locks
Stacking Devices
Drawers
Keyboard Shelves
Foam and Carpet Linings
Ventilation
Tilt and Pull Telescoping Handles
Custom Manufactured Interior Treatments
Design your perfect case with these customizable features for optimal functionality and protection.
Lightweight Poly Custom Trade show Case
Our lightweight poly tradeshow shipping case is a great alternative to an ATA Case when your transportation requirements are lower, and a lower cost is important.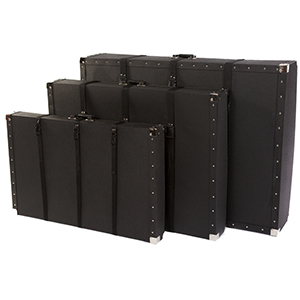 Standard features include:
0.100 or 0.125 high density polyethylene
Chrome-plated corners and rivets
Various options include:
High grade aluminum angles
Colors
Foam lining, die cut foam
2″, 3″ or extra heavy duty 4″ wheels
Banner Stand Cases
Philly Case Company manufactures banner stand shipping cases used for shipping the popular retractable banners with stands that are used as trade shows or other display advertising venues.
Banner cases built tough to protect retractable banner stands with valuable graphics during shipment but are light enough to be easy to carry. Plus, you can ship two banner stands in one case!
Philly Case offers six different standard sizes for banner stand cases up to a maximum interior size of 48″ x 12″ x 6″. If you need something custom, design, and manufacturer custom poly banner stand cases. Contact Philly Case to learn more.
Why Choose Philly Case for Your Custom Trade Show Case?
Our goal is to provide you with the highest quality custom trade show case for the lowest cost and at the same time, provide you with the highest level of service. Our custom tradeshow shipping cases are manufactured with a solid exterior cabinet, designed to control the effects of shock and vibration to ensure your items will arrive in good condition. Unlike most of our competitors, all our trade show shipping cases come with a limited lifetime warranty.